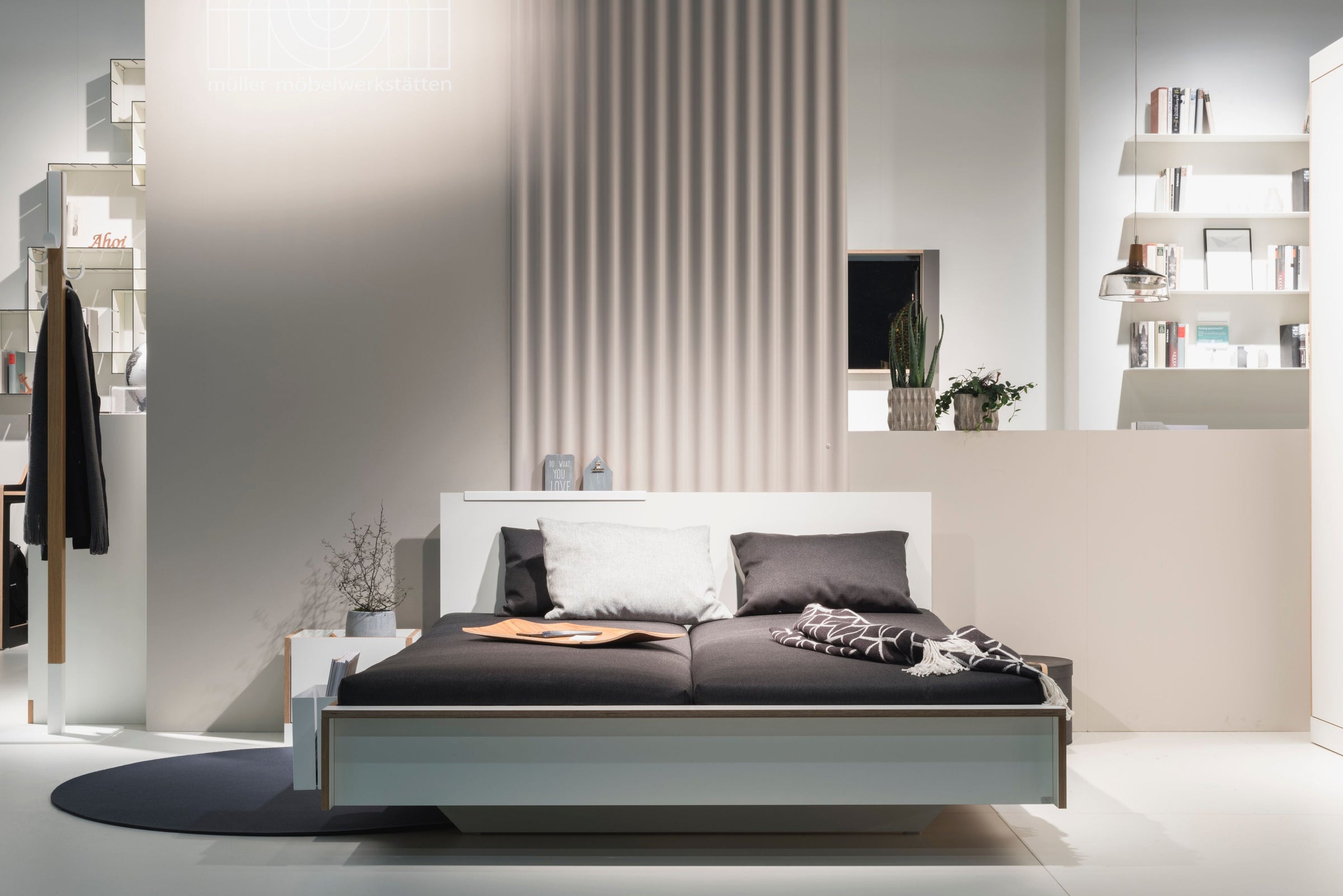 When choosing bedroom furniture, it's important to consider both style and function. Firstly, you'll need to determine the size and layout of your bedroom, and then select pieces that will fit comfortably in your space while still allowing for adequate circulation. It's also important to consider the overall style of your home when selecting furniture for your bedroom, as the pieces should complement the existing decor. Modern bedroom furniture is characterized by clean lines, minimal design, and a focus on functionality. Browse our range of customizable designer beds, wardrobes, bedside tables and chest of drawers below and please contact our team for further details on any of the pieces.
Our Bedroom Furniture Brands
At Milola, we believe in quality from start to finish. That's why we make the conscious choice to only work with brands who use the highest quality of materials and processes. Our bedroom furniture sets are brought to you from two incredible brands: Bolzan Letti and Muller Small Living. Bolzan Letti have been experts in bedroom solutions for more than 30 years and understand the importance of good sleep to our health and wellbeing. Müller Small Living produces timeless, modern furniture with a clear, simple design that has high functionality and adapts to a wide variety of lifestyles.
Luxury Designer Beds
The focal point of any master bedroom: the bed. Designer beds are often made with high-quality materials such as leather or solid wood, and feature unique designs that make a statement in the bedroom.
When choosing your new bed frame, consider your personal sleeping habits, the size of the room and the size of the bed that you need. Storage beds are great options for smaller bedrooms, while a larger room may benefit from a king size bed. A headboard can be a great addition, as it can add a decorative touch and also serve as a backrest while relaxing in bed. Sofa beds are also the perfect addition for guest bedrooms with their multi-functional use.
Bedroom Wardrobes
Scandinavian wardrobes are often characterized by simple, clean lines, and a focus on functionality. They are often designed with a minimalist aesthetic, and feature a neutral color palette with natural wood tones. These wardrobes can easily match with other furniture and decor in the room and can be the perfect addition to any bedroom. Our range of wardrobes at Milola can be customized to meet your storage needs. So, if you need additional drawers or shelves in your chosen wardrobe design, please speak to us about your options.
Bedside Tables
It's surprising how the addition of something so simple as bedside tables can complete the overall look of your bedroom. Nightstands are perfect for holding a lamp, alarm clock or books. When selecting your bedside table, you should consider the size of the table and the height of your bed, to ensure it is at a comfortable height for use. Our range of bedside tables here at Milola are sleek and minimalistic in their design, bringing that true Scandinavian style to your bedroom.
Chest of Drawers & Storage
Chest of drawers are great for storing folded clothes, and are available in a range of modern styles and sizes. Storage units such as bookcases and shelving can also help keep the bedroom organized and clutter-free. Many of our bedroom furniture sets are designed with built-in storage options, such as hidden drawers or compartments, to maximize space and functionality.
The perfect bedroom furniture should be functional, comfortable and reflect your personal style and taste. A good way to achieve this is by choosing pieces that are versatile, timeless and can easily match with other furniture and decor in the room.
Our bedroom furniture here at Milola is highly customizable so please contact us if you would like to learn more about any of the pieces featured on our site.